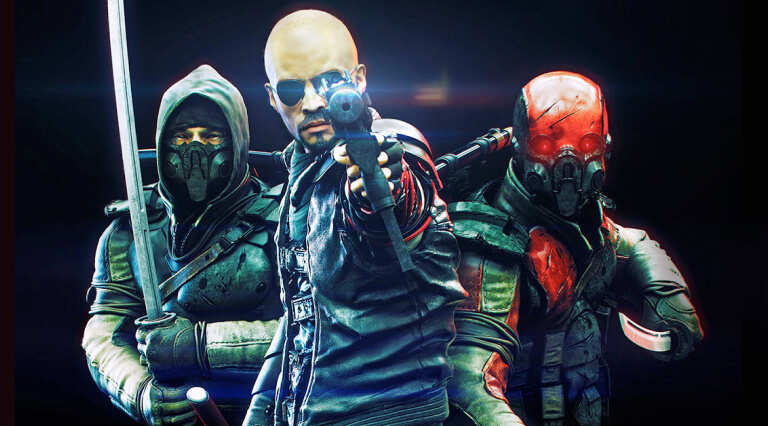 Splash Damage Founder Paul Wedgwood announces unique PE firm, Supernova
Capital LLP; Completes acquisition of Flying Wild Hog, hit developer of
Shadow Warrior series
LONDON – March 14, 2019 – Today, Supernova Capital LLP is proud to announce
the acquisition of Flying Wild Hog.
Too often in our incredible games industry, our brightest and biggest
stars degenerate as they grow, eventually collapsing under the complexity
of their own mass, disappointing investors, staff, and fans alike. Despite
this all-too-normal fate, Paul Wedgwood and his team transformed Splash
Damage from near-bankruptcy and high staff turnover, into one of the UK's
happiest and most profitable developers, contributing multiplayer development
to eight #1 hits, across the Wolfenstein, Quake, Doom, Batman and Gears
of War universes, eventually winning the Sunday Times Top 100 Best Companies
award for incredibly high staff morale.
In 2017, Paul Wedgwood sold Splash Damage in a deal worth up to $160m
to Hong Kong listed company Leyou. In 2018, after 17 years at the helm,
Paul stepped down as CEO of Splash Damage and founded Supernova Capital
LLP. Paul Wedgwood noted, "this is a completely new venture, built on the
premise of solving one simple problem: founders and CEOs face a significant
amount of stress and pressure as the years pass, ultimately trickling down
to their staff and fans. We designed Supernova to reignite the passion
in struggling star developers by simply caring for them; reducing confusion,
decreasing politics, raising productivity, profitability, and dramatically
improving morale – essentially fusing their talents with Supernova's proven
leadership, so that together, we can create the happiest and healthiest
and most profitable studios in our solar system."
To celebrate its launch, Supernova is excited to announce its debut partnership:
acclaimed studio Flying Wild Hog, known for its original, fast-paced action
titles such as the Shadow Warrior series.
Over nearly a decade of operation, Flying Wild Hog has earned an impressive
reputation for itself, not only for its proven seal of quality but for
its experienced team's drive to constantly push boundaries and craft original
games that turn heads, feeling wholly unique and unexpected. Drawing upon
the capital, development experience, and knowledge of the AAA space that
Supernova brings to the table, Flying Wild Hog has continued to grow to
over 180 staff, opening a third office in Rzeszów, Poland, hiring senior
hit-maker talent across the board, and expanding its game portfolio. According
to Flying Wild Hog CEO, Michał Szustak, "we don't chase every opportunity.
We are looking only for partnerships that ensure further growth and help
to realize our ambitions. With Supernova, it feels like we have reconnected
with our older, more experienced siblings. They share the same values as
us – passion for players, employee happiness, and boundary-pushing creativity.
The last 10 years of Hogs' history wasn't always easy but I feel that with
Supernova, we can finally focus on the thing we love the most: making awesome
games. New owners or not, the Flying Wild Hog you know won't be changing
its culture, and we've got some exciting new game announcements to share
with you soon!"
To learn more about Flying Wild Hog and
Supernova, visit their respective websites, download the press kit, and follow the Flying Wild Hog team on
Twitter, Facebook,
and YouTube.
ABOUT SUPERNOVA CAPITAL LLP
Supernova was founded by six of the key forces behind award-winning London-based
studio, Splash Damage (Paul Wedgwood, Mark Morris, Ross Farrow, Richard
Jolly, Griff Jenkins, and Arnout van Meer). With dozens of #1 hits to their
names and hundreds of awards and nominations, Supernova draws upon decades
of experience and industry credibility in the AAA game development space
and beyond. It is a private equity firm, focused on realizing the untapped
potential of independent game development studios and their IPs across
the globe. Supernova seeks to create a network of talented, independent
creators, offering them the capital and high level support necessary to
establish long-term stability in an unpredictable industry, all while allowing
them to maintain their creative freedom and independence. This, in turn,
will ultimately create the happiest, healthiest, and most profitable studios
in our solar system!
ABOUT FLYING WILD HOG
Founded in 2009 in Warsaw, Poland, independent game studio Flying Wild
Hog's name evokes the same core feeling as its acclaimed catalog of titles
— action-packed, fast-paced, and wholeheartedly unique. From Hard Reset
to the Shadow Warrior series, Flying Wild Hog's titles have established
a reputation for quality and care, attracting the likes of Devolver Digital
and spurring rapid and continued growth across its three Polish studios
and nearly 200 employees. Following its recent acquisition by Supernova
Capital LLP, Flying Wild Hog seeks to continue delivering original, high-quality
game experiences that transport players to exciting new worlds and push
creative boundaries. With an ever-expanding game portfolio that leverages
a proven production pipeline, Flying Wild Hog delights in delivering the
unexpected!
---